Venerable Father Michael J. McGivney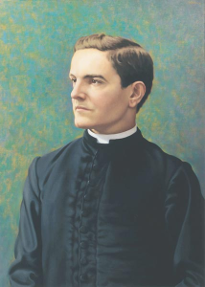 Michael J. McGivney was born to Irish immigrants, Patrick and Mary (Lynch) McGivney on Aug. 12, 1852. He was the eldest of 13 children, six of whom died in infancy or childhood. His father worked as a molder in a Waterbury, Conn. brass mill. Michael Mcgivney attended the local Waterbury district school, but left at the age of thirteen to work in the spoon making department of one of the brass mills.
From his own experience as a member of the immigrant community, he saw first hand the devastating effect on families of the untimely death of the father and wage earner. On March 29, 1882, while an assistant pastor at Saint Mary's Church in New Haven, Connecticut, McGivney founded the Knights of Columbus with a small group of parishioners, to help strengthen the faith of the men of his parish and to provide financial assistance in the event of their death to the widows and orphans they left behind. He was also known for his tireless work among his parishioners.
The Knights of Columbus was among the first groups to recruit blood donors, with formal efforts dating back to 1937. The order now has over 1.8 million member families and fifteen thousand councils.